Please note that our building is currently closed. For now, as we're operating with a small but mighty team, the best way to get in touch with us is to email boxoffice@traverse.co.uk and we'll do our best to respond within 3 working days. We thank you for your patience and support during this time.

All sales through the Traverse Theatre Box Office are subject to Terms and Conditions.

Image: Mihaela Bodlovic (2017)

---
Group bookings
Groups of 7 or more will receive a discount of 10% on their booking. This will automatically apply at checkout, and can be booked online. If you have any special requirements, please contact the Box Office directly.
School bookings
Give us a call or email boxoffice@traverse.co.uk to make any School enquiries, discuss what you need, and to book your tickets.
Access bookings
If you have any access needs and would like help to make a booking, please call the Box Office team and let us know so we can make sure your visit is as comfortable and enjoyable as possible.
You can find out more about our Access Performances and Access Facilities on the website, but if you have any questions at all, please don't hesitate to get in touch with our Box Office team on 0131 228 1404 or boxoffice@traverse.co.uk.
Refunds and exchanges
We'll refund your tickets if a show is cancelled, or a time or date change means you can no longer attend.
We can exchange tickets for £1 a ticket (up to a maximum of £5), with at least 24 hours' notice, for another performance of the same production. To do this, you will need to return any physical tickets you have received for the original performance to the Traverse before the original or rebooked performance date (whichever is earlier).
You can find our full Box Office terms and conditions here.
Returns Queue
Looking for a ticket to a sold-out performance? You can use our Returns Queue!

1 hour before the performance start time, you can add your name to the returns list at the Returns & Enquiries Box Office position
We will take a maximum of 6 names per performance
You may request up to 2 tickets only per performance
You must return to the Box Office 20 minutes before the performance starts as this is when we will start to distribute any tickets which have been returned. If you are not present, we will offer to the next name on the list.
All tickets sold through the returns queue are sold at full price
Some tickets sold through the returns queue are sold for cash only, so please ensure you have enough cash with you
Latecomers policy
Because of the small size and layout of our theatre spaces, unfortunately, we can't always let you in if you're late – especially for Traverse 2 shows – so please arrive in plenty of time so you don't miss out.
Ticket collection and postage fees
We can keep tickets for collection from the Box Office free of charge, or put your tickets in the post for £1 (as long as it's more than 10 days before the performance).
Concessions and discounts
Standard Concessions are available for:
Over 65s

People with disabilities (assistants accompanying people with disabilities go free)
Members of entertainment unions and the Scottish Society of Playwrights

Under 30s & Student Concessions:
Available to everyone under the age of 30
Students
Other Concessions:
Available to those receiving Jobseeker's Allowance and low income benefits, including Carer's Credit, Employment and Support Allowance (ESA), Jobseeker's Allowance (JSA), Pension Credit, Universal Credit.
For further information on eligible benefits and allowances, visit the UK Government website or speak to our Box Office team.
Proof of eligibility may be required when picking up concession tickets and unfortunately concession tickets cannot be posted. Please note that on some occasions, exclusions or conditions may apply to all discounts. If you have any questions or would like to check on anything, please give our friendly Box Office team a call.

Age recommendations and content warnings
Each production presented at the Traverse has been given an age recommendation, and where possible we display any warnings about show content for your consideration whilst booking. This information can be found on each production's page on the website and in the brochure. If you have questions or would like further information, please contact the Box Office team who will be happy to help.
Young children policy
The Traverse is a family-friendly theatre, but it's always worth checking if a performance is suitable for very young children.
As long as they're sitting on the lap of an adult, there's no charge for children under the age of 2, and no ticket is required.
We would kindly ask that those with Under 2s sit somewhere where it is easy to leave the theatre, in case your child becomes unsettled.
If a show is specifically made for very young children there may be a charge for tickets. Just call or email boxoffice@traverse.co.uk if you are unsure.
Luggage
Please note that we don't have a cloakroom and can't store any bags or luggage, but there is a Left Luggage facility at Waverley Train Station. Give us a call for more details.
Only bags measuring 22cm x 35cm x 56cm (including handles and wheels), or smaller, can be taken into our auditoriums (one per person).
---
Any questions?

If you have any questions at all, please call the Box Office team on 0131 228 1404, or email us at boxoffice@traverse.co.uk.
---
Getting Here
Food & Drink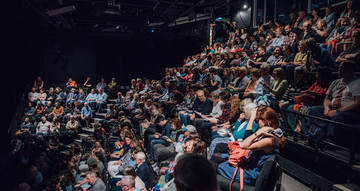 What's On