The Traverse runs an extensive year-round engagement programme, offering audiences of all ages and backgrounds the opportunity to explore, create and develop.

With a mixture of projects, workshops, events and resources, led by the professional theatre-makers you've seen on our stages, we aim to enhance the artistic programme for all of our audiences, including schools, colleges, universities, artists and anyone with a love for theatre.

If you've written the next play that everyone's going to be talking about, we want to hear from you! Check out our Open Submissions.
On this page you'll be able to find and access all of our current digital activity and newest talent development initiatives, as well as our regular events and opportunities.
Check out our virtual programme to see the work we're producing at the moment.
Image: Open Submissions Festival (2019), Lara Cappelli
---
Current digital activity
Want to develop your playwriting skills?
This free 16-week course delivered in video and podcast form led by delivered playwrights and theatremakers will support you - and fellow aspiring writers - to unleash your creativity and take you from idea to draft.

Tutors already confirmed to deliver workshops are Debbie Hannan, Gareth Nicholls, Matilda Ibini, Natasha Sutton Williams, Julia Taudevin, Hannah Lavery and Meghan Tyler. Transcripts and closed captions available.
---
Regular events and opportunities
---
Writers
Our past, present and future centre on showcasing of the brightest and most adventurous playwrights from Scotland, and around the world.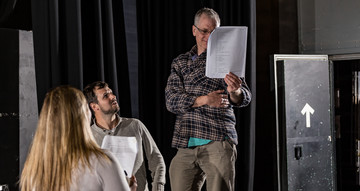 Actors & Creatives
Writers need brilliant directors, actors and creatives to bring their visions to the stage.
Open Auditions
We regularly hold open auditions in order to widen our knowledge of who's out there and meet actors we may not otherwise meet.
Schools
Are you a student, teacher or educator interested in connecting with the Traverse and our work?
Young People
Introducing young people to the theatre and encouraging them to become theatre-makers is at the heart of our engagement work.
£1 tickets
Are you under 25, or receiving Jobseeker's, Employment Support Allowance, Universal Credit or Carer's Allowance? We're now offering £1 tickets for selected shows and performances.