As Scotland's new writing theatre, the Traverse Theatre is a dynamic centre for performance, experience and discovery, often referred to as Edinburgh's 'beating heart of the Fringe' in August. Enabling people across society to access and engage with theatre is our fundamental mission.
Our year-round programme bursts with new stories and live performances that challenge, inform and entertain. We empower artists and audiences to make sense of the world today, providing a safe space to question, learn, empathise and – crucially – encounter different people and experiences. Conversation and the coming together of groups are central to a democratic society, and we champion equal expression and understanding.
We commission, produce and programme for existing and future audiences to offer new and exciting experiences for everyone, and our partnerships with other theatre companies and festivals enable us to present a wide range of innovative performances.
The Traverse would not exist without our over-arching passion for talent development and embracing the unexplored. We work with the newest and rawest talent – with an emphasis on the Scottish-based – nurturing it to become the art, artists and performances that can be seen on our stages through a variety of creative learning and literary programmes.
The timely, powerful stories that start life on our stages have global impact, resulting in dozens of tours, productions and translations. We are critically acclaimed and recognised the world over for our originality and artistic risk, which we hope will create some of the most talked-about plays, productions, directors, writers and actors for years to come.
---
Our History
Team Traverse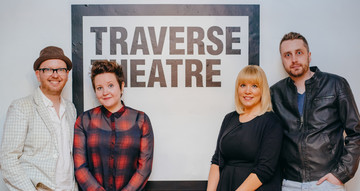 Artists in Residence
Jobs & vacancies
Visiting Companies
Contact Us