The Traverse is delighted to enjoy the company of a talented and exciting group of Associate Artists and Artists in Residence. Each of them have written or directed, or are writing, a play commissioned by the Traverse. We believe that these artists are the UK's most promising and innovative dramatic voices, helping to move British theatre into a bold new future, and we are extremely proud to count them as part of our team.

Associate Artists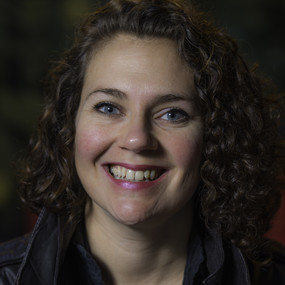 Emma Callander (Director)
For the Traverse: Crash by Andy Duffy (nominated Best Play at the Critics Awards for Theatre in Scotland); Cuckooed by Mark Thomas (winner of a Fringe First and the Amnesty International Freedom of Expression Award); Breakfast Plays: The Birth Plays; Referendum Plays; Knowledge is Power: Knowledge is Change.
Elsewhere: Refugee (Teater Grob, Copenhagen); In Opposition (Paines Plough Roundabout); Theatre Uncut 2013: The Rise of the Right (Young Vic); Theatre Uncut 2012: International (Young Vic, Latitude, Shambala) and Theatre Uncut 2011: The Cuts (as a participant at the Bristol Old Vic and Arches Glasgow).
Emma is Co-Artistic Director of Theatre Uncut, Creative Director of the Birth Debate for Royal Exchange Theatre Manchester, and Leverhulme Fellow at the Bristol Old Vic.

---
Rob Drummond (Writer & performer)
For the Traverse: Grain in the Blood (also produced in South Korea); Our Fathers (in co-production with Magnetic North); Quiz Show.
Elsewhere: The Majority (National Theatre of Great Britain); the multi award-winning Bullet Catch (The Arches); two CATS award-winning plays for young audiences, Mr Write (National Theatre of Scotland) and Uncanny Valley (Borderline Theatre and Edinburgh International Science Festival); Rob Drummond: Wrestling (The Arches), and dating show In Fidelity (HighTide). Rob has already written the first ever stage version of beloved Scottish comic strip The Broons (Selladoor, Scottish tour).
Rob is currently under commission to The Traverse, The National Theatre of Scotland and The National Theatre of Great Britain, as well as working on new pieces for radio, film and TV.

---
Gary McNair (Writer & performer)
For the Traverse: Locker Room Talk (also produced in Germany); Letters to Morrissey; A Gambler's Guide to Dying.

Gary McNair is a playwright, director and performer based in Glasgow.
His aim is to make work that will entertain and challenge audiences in equal measures.
After graduating with first class honours in Contemporary Theatre Practice from the RSAMD (now RCS) in 2007 he has produced work with and for many of Scotland's major theatre companies and his work has been translated into several languages and performed around the world.
His most recent work includes; Fringe First award-winning Square Go (Francesca Moody); Fringe First award-winning Letters to Morrissey, Locker Room Talk (Traverse Theatre Company); A Gambler's Guide to Dying which enjoyed a successful run at the Traverse theatre during the 2015 Edinburgh Festival Fringe, a subsequent world tour and was part of the Adelaide Festival in 2016. The show received huge critical acclaim, was the recipient of a Fringe First and the Holden Street Theatre awards and was featured in the BBC's best solo shows of the Fringe.
Gary's other recent writing credits include Let The Bitch Burn (RCS); After the Cuts (Òran Mór); Fess Up (Company of Angels); Donald Robertson is Not a Stand-Up Comedian (Traverse Theatre Company/National Theatre of Scotland); How to Choose and What You Don't Know (Trigger).

---
Morna Pearson (Writer)
For the Traverse: How to Disappear, The Artist Man and the Mother Woman, Distracted and Bin Heid; Walking On Walls (Traverse Theatre Company/Òran Mór, A Play, A Pie & A Pint).
Elsewhere: Let's Inherit the Earth (Dogstar/Profilteatern); Dr Stirlingshire's Discovery (Lung Ha/Grid Iron); Lost At Sea (Catherine Wheels); The Library (Frozen Charlotte); The Strange Case of Jekyll & Hyde (Lung Ha); Ailie & The Alien (National Theatre Connections); Un Petit Moliere (Lung Ha); The Company Will Overlook a Moment of Madness (National Theatre of Scotland/Òran Mór, A Play, A Pie & A Pint); Elf Analysis (Òran Mór, A Play, A Pie & A Pint).
Morna Pearson is an Elgin-born Edinburgh-based playwright and screenwriter. She has been a recipient of the Channel 4 Playwright Scheme and the Meyer-Whitworth Award. Her first short film, I Was Here, gained BAFTA Scotland and EIFF nominations for Best Short Film. Current projects include a pilot sitcom script for BBC Studios and Darklands for National Theatre of Scotland.

---
Tim Price (Writer)
For the Traverse: How To Ruin Someone's Life From The Comfort of Your Own Beanbag (Traverse Breakfast Play); I'm With the Band (Traverse Theatre/Wales Millennium Centre); Demos.
Elsewhere: Elevenses (Somerset House); The Insatiable; Inflatable Candylion (National Theatre Wales); Teh Internet is Serious Business (Royal Court Theatre); Protest Song (Royal National Theatre); Praxis Makes Perfect (National Theatre Wales/Barbican tour); The Radicalisation of Bradley Manning (National Theatre Wales - Winner James Tait Black Prize); Salt Root and Roe (Donmar Warehouse); For Once (Pentabus Theatre/Hampstead theatre).

---
Stef Smith (Writer)
For the Traverse: Girl in the Machine, Swallow (also produced in Germany and Turkey).
Elsewhere: Nora (Citizen's Theatre), Letters to Europe (Underbelly) Acts of Resistance (Bristol Old Vic/ Headlong) How to Grow a Nation (Young Vic); The Deep End (BBC Scotland); Human Animals (Royal Court); Remote (National Theatre Connections Festival); Tea and Symmetry (BBC Radio); Smoke and Mirrors (Traverse Theatre and DOT Istanbul for Theatre Uncut); Back to Back to Back (Cardboard Citizens); Cured (Glasgay! Festival); Grey Matter (The Lemon Tree); Woman of the Year (Òran Mór) and Falling/Flying (Tron).
Her critically acclaimed show, Roadkill, won numerous awards, including an Olivier Award for Outstanding Achievement in an Affiliate Theatre.

---
Artists in Residence
Apphia Campbell
Apphia Campbell is the IASH/Traverse Playwriting Fellow for 2021.
She is originally from the United States, and graduated from Florida International University with a BFA in theatre performance.

In 2013 Apphia wrote her critically acclaimed piece, Black Is The Color Of My Voice and opened in Shanghai to rave reviews before performing at the Edinburgh Festival Fringe in 2014 where it sold out and has been touring the UK; selling out in prestigious houses such as St. James Theatre, Wilton's Music Hall, and Oxford Playhouse.

In 2017, her new show with Meredith Yarbrough, Woke, was presented as part of the Made In Scotland Showcase, won a Scotsman Fringe First, a Highly Commended award from Amnesty International, and was shortlisted for The Filipa Bragança Award and Scottish Art Club Theatre Award.

In 2018, she continued to tour Woke and was featured in the Guardian's '50 Shows to See at the Fringe' and Vogue's '5 Shows Not to Miss' at the 2018 Fringe. In 2018, she also became a member of the BBC Writers' Room (a group chosen for one year tutelage with the BBC).

In 2019, she made her West End debut with Black Is The Color Of My Voice which had rave reviews and a sold-out run at Trafalgar Studios. She also had a London premiere of Woke at the prestigious Battersea Arts Centre. In the same year she appeared in the BBC's 'The Novels that Shaped the World' for The Handmaid's Tale segment and in an episode of Urban Myths: Orson Welles with Robbie Coltrane.

In 2019, Apphia also received her first commission from the BBC for a children's story, called Zachary The Zebroid which aired in February 2020. She also wrote Birdie's Dilemma for Scenes for Survival, which premiered on the BBC in collaboration with National Theatre of Scotland. She was one of six writers who wrote for the National Theatre of Scotland's Christmas show Rapunzel.

In 2020, she was also elected to the board of the Edinburgh Fringe Society where she'll be representing artist concerns and needs for the next two years.

Recent credits: The Last Bordello (David Leddy, Director), Woke (Caitlin Skinner, Director), Black Is The Color Of My Voice (Arran Hawkins, Director), The Color Purple (James Harkness, Director), Soul Sessions (Cabaret), No Exit (Michael Beets, Director).
---
Robbie Gordon (Creative Development Producer)
Robbie Gordon is a theatre-maker and co-founder of Wonder Fools. He currently works as the Creative Engagement Director at the Gaiety Theatre, the Creative Development Producer for Class Act at the Traverse Theatre and the director of the Royal Conservatoire of Scotland Young Company.
Selected credits: co-creator of Positive Stories for Negative Times (Wonder Fools); curator of Open Your Lugs (Ayr Gaiety); co-producer of Class Act 2020 (Traverse); writer and movement director of 549: Scots of the Spanish Civil War (Wonder Fools); writer of The Coolidge Effect (Wonder Fools); writer and director of McNeill of Tranent: Fastest Man in the World (Wonder Fools); workshop leader and sand artist on Danny Boyle's Pages of the Sea (National Theatre of Scotland); research assistant on Locker Room Talk (Traverse Theatre).
---
Wezi Mhura (Creative Development Producer)
Wezi Mhura is a freelance creative producer, who has initiated and developed projects with widely diverse groups of artists, organisations and artforms including dance, theatre, circus, visual art, digital and music performances.

She is the founder of AfriFest, Scotland's first festival commemoration of Pan-African Arts and Culture, and a celebratory showcase of visual, performing arts and culture of the Scottish Pan-African diaspora community. Wezi has a passion for cross-artform, multidisciplinary collaborations and experimenting with new forms, she often works within unconventional, outdoor and site-specific spaces.

Highlighted achievements include a London 2012 Cultural Olympiad Commission, two critically acclaimed events in the Glasgow 2014 Commonwealth Games Culture programme and the 2020 Scotland wide BLM Mural Trail

In 2020 Wezi became a creative associate with the National Theatre of Scotland.
Instagram : www.instagram.com/blmmuraltrail/
Twitter : https://twitter.com/BLMMuralTrail
---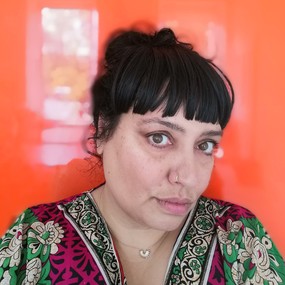 Raman Mundair
Raman is the IASH/Traverse Digital Fellow 2021.
Raman Mundair is an Indian born, Queer, British Asian writer, director, dramaturg, artist and filmmaker based in Shetland and Glasgow. She is the award winning author of Lovers, Liars, Conjurers and Thieves,A Choreographer's Cartography, The Algebra of Freedom (a play) and is the editor of Incoming: Some Shetland Voices. She is a Scottish Book Trust IGNITE fellow. Her short film Grafitti is under script development as part of the CONVERGENCE BFI programme. Her short film Trowie Buckie was shortlisted for Sharp Shorts 2020.
Raman is an ALL3Media Scholarship winner and a graduate of the National Film and Television School. She has been invited by BBC writers room to be part of their Scottish Drama Writers Programme 2020 initiative. She was shortlisted as a writer and director for Sharp Shorts. Tramway, Glasgow commissioned three new experimental artist films which debuted on the Tramway TV initiative.
She is currently a dramaturg and mentor for Scottish Youth Theatre on the Stories 2020 project. She is a Margaret Tait Award 2021/2022 longlist nominee. Raman was longlisted for the Rolex Mentor and Protégé Arts Initiative Award and is a winner of the Robert Louis Stevenson Award and a Leverhulme Fellowship. She is an intersectional feminist and as an activist she has worked on a grass roots level against anti racism, anti fascism, state violence, No Borders, and against gender based, domestic and sexual violence.
Her work is socially and politically observant, bold, mischievous, cutting edge and potent with poetic imagery and integrity. Her writing plays with the intersections of race, gender, sexuality and class and challenges notions of British and colonial histories and identities. Raman's work focuses on the experiences, knowledges and life-worlds of people of colour and reframes their experience from a fresh, new perspective.
She has published poetry, fiction, drama and non-fiction and has performed and exhibited her artwork around the world from Aberdeen to Zimbabwe. She presents the Intersectional Voices (IV) podcast.
---
Uma Nada-Rajah
Uma is the Traverse's Writer in Residence 2021.
Uma is a playwright based in Kirknewton, Scotland. She is one of the BBC's Scottish Voices 2020 and was most recently the Starter Female Political Comedy writer-in-residence at the National Theatre of Scotland.
Uma is a graduate of École Philippe Gaulier and a previous participant of the Royal Court's Young Writers' Programme and the Traverse Theatre's Young Writers' Programme. In 2014 Uma won the New Playwrights Award from Playwrights' Studio Scotland. She wrote the audio play The Watercooler for the Traverse in 2020.

She works as a staff nurse with NHS Scotland.
---
Jack Nurse
Jack is Artist in Residence (Creative Developmet).
He is a director and theatre-maker from Dumfries and Galloway. He co-founded Wonder Fools in 2014. Jack is currently Creative Engagement Director at the Ayr Gaiety Theatre and an Origins Artist with Headlong Theatre.
Jack is currently under commission with the Traverse Theatre and recently wrote Ozymandias for the Wonder Fools and Traverse international participatory project Positive Stories for Negative Times, for which he is also project lead. He is also a graduate of the Traverse's Young Writers' Group.

---
Julia Taudevin
Julia is our IASH/Traverse Creative Fellow for 2020. Taudevin is an award-winning actor, playwright, screenwriter, director and co-artistic director of the Glasgow-based theatre company, Disaster Plan. She is the writer of eight plays, which have gained her critical and industry attention for their ambitious form, and political and feminist themes. In her own words, her work is: 'driven by female characters and stories exploring themes of alienation and isolation, with an interaction between the text and the use of music often central to the form'.
During her time as IASH-Traverse Creative Fellow she will be working on a piece called A(u)nti(e) Empire – a gory political comedy about the British Empire.
---
Andrew Thompson

Andrew is one of our 'UK in Japan Season 2020, British Council' Writers in Residence. He trained and worked as an actor for ten years for companies including National Theatre, Sheffield Theatres and ITV. He began writing short plays and moved to Edinburgh to focus on writing.

Andrew's work has been staged in Newcastle, Sheffield, London and Edinburgh. He was awarded a Jerwood/Arvon Fellowship in 2014 and has been the recipient of a Playwright Studio Scotland New Playwright Award.
His play In Event of Moone Disaster won the Theatre503 International Playwriting Award 2016 and was staged at the theatre in October 2017. Andrew received the Best New Writer Award at The Stage Debut Awards 2018.

---
Morna Young

Morna is one of our 'UK in Japan Season 2020, British Council' Writers in Residence. She is a playwright, actress and musician from Moray. She was recipient of the 2017 Dr Gavin Wallace Fellowship (hosted by Creative Learning, Aberdeen City Council), the New Playwrights Award 2014 (Playwrights' Studio, Scotland) and the 'Tomorrow at Noon' award for female playwrights 2018 (Jermyn Street Theatre). In 2018, she was playwright-in-residence for BATS Theatre in Wellington, New Zealand.
Lost at Sea, her debut play, premiered at Perth Theatre in April 2019 before touring Scotland. The critically acclaimed production received four nominations and won two categories at the Critics' Awards for Theatre in Scotland (CATS).