In Conversation with Oliver Emanuel
News
9 Oct 2019
Ahead of welcoming his latest play, The Monstrous Heart, to our stages this later this month we caught up playwright Oliver Emanuel to find out more about the show, how he once blagged a free set from IKEA and his path into theatre-making.

[5 minute read]
Tell us about The Monstrous Heart…
The Monstrous Heart is a play about family, and about mothers and daughters.
The whole thing takes place in this remote cabin on a mountainside in British Columbia in Canada.
One day Mag, who lives there, gets a knock on the door, and standing at the door is her daughter Beth who she hasn't seen in a very long time. The last time they saw each other; there was a lot of tension and a lot of pain.
This time, it's kind of like a final reckoning between the two of them: about what's happened to them in the past and what the future might hold for each of them. And there's an added element because it's not just a play about them – there's also, in the middle of the room, a massive, dead, grizzly bear.
Where did the inspiration for the play come from?
For me, any play has a number of different sources and so this one comes around a bunch of things. Firstly it was loosely inspired by a moment in Frankenstein by Mary Shelley.
It also comes about because of a time I spent working in prison, about ten years ago and my thoughts about how certain sections of society are viewed by the rest of society, and how quickly we can create monsters of certain people who also have humanity and my struggles with that.
The other source of it was that, a few years ago, I was about to become a dad and my partner and I were having fish and chips in Anstruther – as you do! – and we'd been dreaming about our child, and who this person was going to be, and we thought all these wonderful thoughts about this person, but then we suddenly just thought, well, what if she turned out to be the worst bits of us? What would those be?
So we did this thing where we literally listed our worst aspects of ourselves, and we sort of went through – it took about an hour, maybe even longer – just chatting about the bad sides of ourselves.
Suffice to say, by the end of that we were both deeply depressed and horrified by the monster that could emerge! I should say that, actually, my daughter is fantastic and not anything like that! But that was one of the origins, thinking about what we inherit, and what we pass on as well.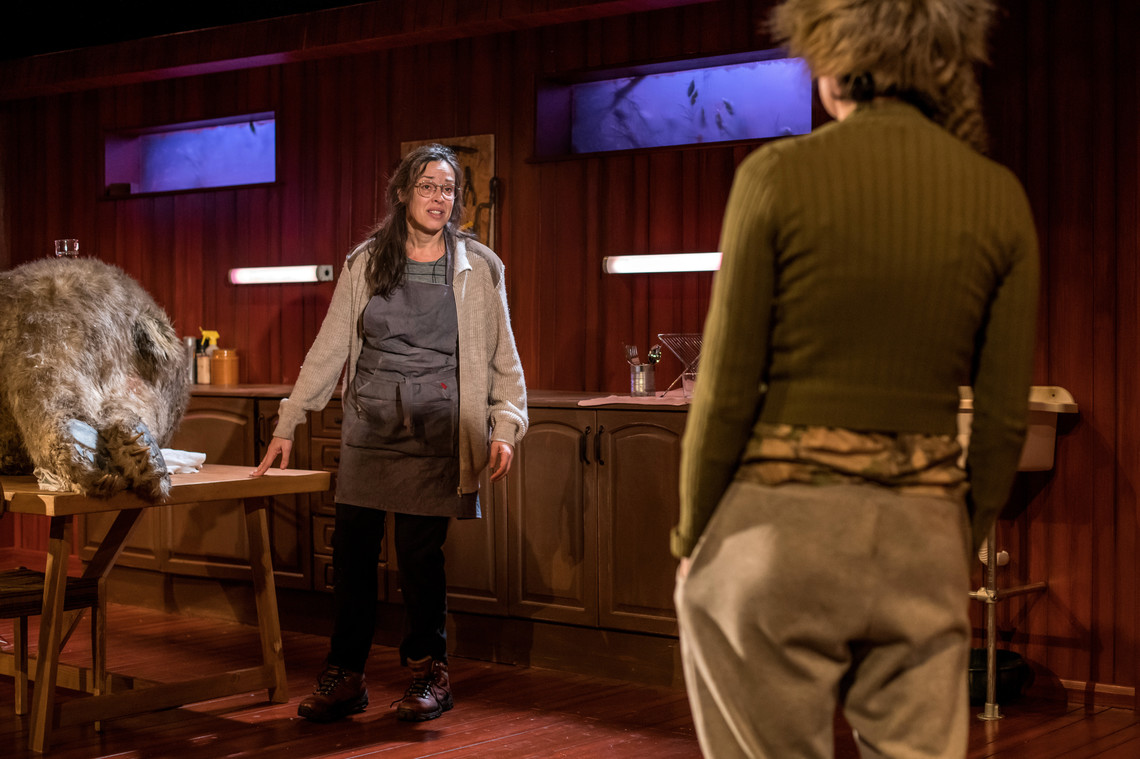 You've mentioned that you drew inspiration from Mary Shelley's Frankenstein, are there any direct quotes in there for eagle-eyed fans to keep an eye out for?
My favourite section of Frankenstein is the moment when the creature catches up with Victor in the Swiss Alps. It's a visceral, thrilling confrontation between created and creator and was the direct inspiration for the set-up of the play.
I chose British Columbia in Canada as a setting as it is remote yet somewhere where someone from the UK might conceivably go. I didn't want any audience member who hadn't read the novel to feel left out so my references are subtle and do not directly affect the overall story.
Saying that, The Monstrous Heart is laced with quotations, not least of all the character names: everyone comes from the novel. If you're really keen to find a direct reference to Mary Shelley's original, look out for a section about 'hope'.
What excites you about seeing your show at the Stephen Joseph Theatre in Scarborough and here at the Traverse?
It's really exciting for me. I've been in Scotland for about 13 years. All my professional life has been up in Scotland, but this is my first show for the Traverse, so, I'm dead excited. It's the home of Scottish new writing and I consider myself a Scottish playwright.
But before I was in Scotland, I studied in Yorkshire, so the chance to go to the Stephen Joseph Theatre feels a bit like coming home as well - it's really brilliant and obviously the Stephen Joseph Theatre has such a kind of, long and storied history of being a playwright's theatre.
I'm excited about those different audiences, because Scarborough is so different to Edinburgh, and Edinburgh's so different to Scarborough. It's always exciting as a playwright to have your work in front of different audiences, and to see how your story connects with different people.
Why should people come to see The Monstrous Heart?
I think this play has got a bit of everything in it: there's funny bits, there's moving bits, there's kind of horror elements - it's exciting, it's psychological... there may only be two people on stage together but, a lot happens and I think whether you're someone who has never been to the theatre before or someone who is a seasoned theatre-goer, there is definitely something in this show for you.
I've put everything I know about theatre into this piece, so I'm really excited about people seeing it.
What can audiences expect from The Monstrous Heart?
The audiences for The Monstrous Heart can expect to be surprised! Right from the first time the lights go up and they are confronted with Mag and Beth - as well as giant bear on the table - there are shifts, changes and startling revelations. I wanted to write something tight and contained yet thrilling, a drama that was funny yet dark and would keep you guessing right to the end.
This is the third play that you've worked on with the director, Gareth Nicholls. What excites you in his vision of the piece?

His work very much tends towards the dark and the underside of human experience, and that's always been something that I've explored too. So I think with this piece, we've pushed it as far as we can go - I think you'll see that we go pretty far!
Can you tell us about the first play you wrote and what advice would you give to your younger playwriting self?
The first play I wrote was called IZ and it was about 3 men who were all in love with the same woman who had recently died. It was about friendship, grief and love.
We wrote to IKEA and managed to get a free set; and to M&S for suits, also given to us for free. I asked my best friend to direct it and we cast recently graduated actors in the 3 roles. In the early 00's, you could get to the Edinburgh Fringe relatively cheap so we took it there for 3 weeks, got a good review from The Guardian and applied to take it on tour.
We had no idea what we were doing really but we just wanted to make plays. I was 23 and as much as I had learnt from doing a degree in English and Theatre (at Leeds); it was having my work in front of an audience that really taught me what worked and what didn't. It wasn't perfect, in fact I'd say I didn't write a good play for a number of years after IZ, but I look back in wonder at the energy I had then.
I'm a very slow learner so my advice to anyone starting out as a playwright now is to take your time. Write as much as you can, get it on, if you can, watch the audience and don't worry about writing your masterpiece at 23. Or even 33. Maybe 43? 53…?
What has been your most memorable theatre experience – either as a member of the audience, or as part of the creative team?
I wrote a play with no words called Dragon for the National Theatre of Scotland and Vox Motus in 2013. It was about a wee boy whose mother had passed away, his family were fractured, he was bullied at school and then one day a dragon appears at his bedroom window. It took me ages to work out how to write a silent play - and why - but I remember the first time we put it in front of an audience and people laughed and cried and sat forward in their seats. We had had no idea whether the play would communicate without words but actually the visual storytelling seemed to go straight into the bloodstream and heart.
---
Find out more