Grid Iron: A retrospective
News
22 Nov 2019
For the last 23 years, the innovative Edinburgh-based Grid Iron theatre company have been challenging audiences' understanding of what constitutes a theatre, with their unique approach to immersive performance transforming locations as varied as a playground, secret underground caverns, a zoo and an airport into thrilling performance spaces. Their very first production, Clearance, took place at the Traverse Theatre, and we are welcoming them back with Strange Tales, a co-production between the two companies, next week.
Here we take a look at some of their most iconic productions:
The Bloody Chamber
Location: Mary King's Close
1997
Cited as one of The Scotsman's Top 20 Scottish theatre events of all time, The Bloody Chamber took place in the atmospheric hidden streets of the infamous Mary King's Close, just off Edinburgh's Royal Mile, before it became a well-established tourist attraction. It was later relocated to the London Dungeon and Belfast's Lagan Weir. Audiences followed the journey of a young bride from innocence to corruption, bathed in the blood of her tortured husband's sexual obsession and are led by torchlight deep into the dungeon of Count Bluebeard's castle.
---
Decky Does a Bronco
Location: Parks around the UK
2000-2002; 2010
Playwright Douglas Maxwell's tale of 5 pals' attempt to do a 'bronco' ( standing on a swing, worky up to the bumps, level with the bar, kick the swing over your head and jump beneath it) to prove themselves men by the end of the school holidays toured to parks and playgrounds all over the UK. Premiering in 2000, it was revived for its tenth anniversary in 2010.
---
Roam
Location: Edinburgh Airport
2006
This imaginative journey through, in and around the possibilities of air travel, a co-production with the National Theatre of Scotland transformed Edinburgh's international airport into a large-scale performance space, combining a multinational company of 10 performers together with a group of non-professional participants aged 5 to 95. Beginning as the last flight leaves, Roam reflected on national identity, the gross inequalities in our world, the politics of terror and also on flight itself as a symbol of human achievement.
---
What Remains
Location: Edinburgh Medical School
2011
During the Edinburgh Festival Fringe, audiences were taken on a unique journey through life – and death. A promenade music installation piece featuring live and recorded compositions by David Paul Jones, the production played out in the eerie space of Edinburgh's renowned Medical School.
---
Crude
Location: Shed 36 in the Port of Dundee
2016
Focusing on the lives of offshore workers and the choices they make to work on the industrial islands of the North Sea, Crude travels to the Niger Delta and the Arctic Circle to look at the global impact of oil production and its human and ecological cost – all from a former ship and rig production shed in Dundee. Among the cast were performers who had worked in the oil industry before pursuing an acting career.
---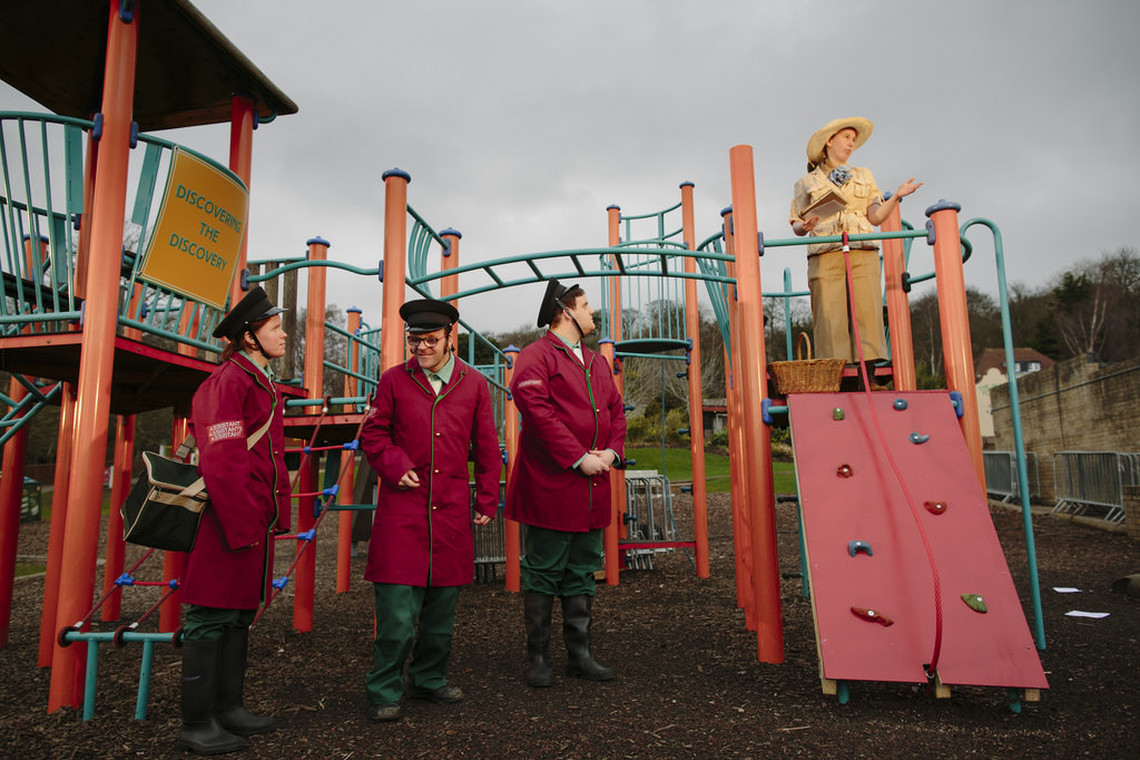 Dr Stirlingshire's Discovery
Location: Edinburgh Zoo
2017
A co-production with Lung Ha theatre company, and presented as part of the Edinburgh International Science Festival, Dr Stirlingshire's Discovery took audiences on an adventure amongst the inhabitants of Edinburgh Zoo. Taking place both indoors and outdoors, audiences encountered not only a range of different characters, but also various forms of life – from squabbling zoo guides to dancing penguins and something Dr Stirlingshire has yet to name….
---
Jury Play
Location: Traverse Theatre
2017
In an unusual move, Grid Iron brought the outside world into the theatre in this co-production with the Traverse Theatre Company. Traverse 1 was completely reconfigured so that audiences experienced it like never before – as a close replica of an active courtroom. With members of the audience filling many of the jury seats, the production asked prescient questions about how our justice system currently works, and dares to reimagine its processes and traditions.
---
Coming soon...
Strange Tales
Location: Traverse Theatre
2019
Tales of mischievous fox spirits, yearning ghosts and shapeshifting creatures might not be your usual festival theatre fare but that's exactly what Grid Iron's current project, in co-production with the Traverse Theatre explores. Based on Pu Songling's Strange Tales from a Chinese Studio, this thrilling adaption uses puppetry, movement and cutting-edge digital technology to thrust you right into the pages of the tales themselves.