Bring Your Show To The Traverse
About us
The Traverse intends to begin to welcoming audiences back to our building as soon as is safe to do so in 2021, and we will be working on a gradual return to live performance with our own productions and some established partners.
At the moment (Dec 2020), our programming for 2021 and beyond is paused. If you were hoping to tour your production to the Traverse for Spring/Autumn 2021 or present with us for TravFest21, please note we are not able to schedule dates at this time.
We are committed to supporting artists, audiences and staff back into the Traverse as soon as possible and are hopeful we will start to understand more about the logistics of this from around March/April 2021, and we will update here and through our social media channels as actions and timelines become clearer.
Although work in our physical spaces might be on hold for now, check out our online venue, Traverse 3 to see what we're up to. Whilst we're not able to accept submissions for presenting in Traverse 3 at this time, this may become possible in the future, and we will update you of any news of this nature here.
If you have any questions which have not been addressed above, or would like to bring your show to the Traverse in the later future, please email info@traverse.co.uk and we'll get back to you as soon as we can.
---
The Traverse Theatre is a dynamic centre for performance, experience and discovery. Enabling people to access and engage with theatre is our fundamental mission, and we want our work to represent, speak to and be seen by the broadest cross-section of society.

Our year-round programme bursts with new stories and live performances that challenge, inform and entertain our audiences.
We are proud to present an exciting and dynamic range of new writing and new work from local, national and international artists and companies in every Traverse season.

Our 4 seasons are:
Autumn – September to December
Spring – January to April
Summer – May to July
Festival – throughout August, as part of the Edinburgh Festival Fringe
Every season is curated, and all submissions will be read by our team for consideration. So if you have a piece of work you think would be suitable for the Traverse, please complete the form as soon as you're able to.

Image: Joyce Nicholls, Frankenstein: How to Make A Monster, Traverse Festival 2019
---
Virtual Programme
Our Vision, Mission and Values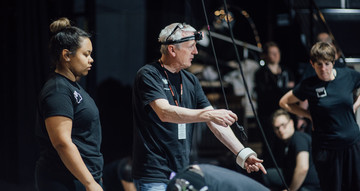 Technical information