Bring Your Show To The Traverse
About us
The Traverse Theatre is a dynamic centre for performance, experience and discovery. Enabling people to access and engage with theatre is our fundamental mission, and we want our work to represent, speak to and be seen by the broadest cross-section of society.

Our year-round programme bursts with new stories and live performances that challenge, inform and entertain our audiences.
We are proud to present an exciting and dynamic range of new writing and new work from local, national and international artists and companies in every Traverse season. We also platform and pioneer digital work on Traverse 3, our online venue.
Our 4 seasons are:
Autumn – September to December Submit your work for Autumn 22
Spring – January to April
Summer – May to July
Festival – throughout August, as part of the Edinburgh Festival Fringe
If you have a piece of work you think would be suitable for the Traverse, please contact us as soon as you're able to.

Image: Joyce Nicholls, Frankenstein: How to Make A Monster, Traverse Festival 2019
Partner Company submission form for Autumn 2022
via online form service, Submittable
Further information regarding our performance spaces and facilities for partner companies can be found in the Technical section, and our current programme can be found in What's On.
We look forward to hearing from you!

For enquiries about bringing your work to the Traverse, or if you have questions about the submission process, please contact our Programme Administrator, Jenny Gilvear:
---
Explore What's On
Our Vision, Mission and Values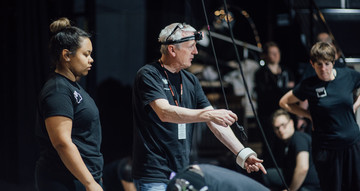 Technical information